SwigStreaming to help insure the best possible video quality and user-experience, even at modest bandwidth conditions.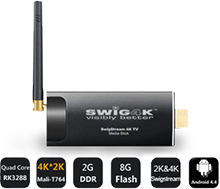 Take it with you
Measuring a mere 3 1/2" x 1 ½" x 1/4", SwigStream™ 4K TV Media Stick is far smaller and lighter than just about any mobile phone. With its simple HDMI connection, any TV set, whereever you may be, offers just about all of the entertainment options you have at home. Subscribers to Dish, Direct, Time-Warner, Verizon, etc., can enjoy the same content with SwigStream™ 4K Media Stick away from home, as they can at home on the Cable/Satellite company set-top boxes. With pre-installed apps to the major cable and satellite networks, a simple click activation of your provider's app is all that is needed.

WI-FI
SwigStream™ 4K Media Stick comes with ultrafast 2.5 hz/5Ghz dual Wi-Fi connection. Stream high definition media with the speed and stability of a hard wire connection - without the wire.
BLUETOOTH V4.0
The Bt 4.0 module in SwigStream™ 4K TV Media Stick saves power consumption, reduces 3m second delay, and has a transfer-distance of over 100 meters (over 320 ft.) and supports AES-128 coding. It is compatible with 2.0, 2.1 and 3.0 all BT standards.
STYLISH ALL METAL CASING IS NOT JUST FOR GREAT LOOKS.
Sure, we strive to be the affordable 'Ferrari' of over-the-top (OTT) media devices, but the decision to use a costly metal case over flimsy plastic (used by competitors) was made primarily for its performance advantages - which actually drives every decision we make. With our Quad-Core, blazing fast processor, and other high performance components, all packed into a small 3 1/2" x 1 ½" x 1/4" case, we selected metal because it offers optimal heat dissipation and product longevity which is a clear winner for us – and you.